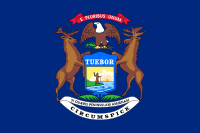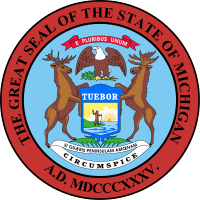 Craigslist Michigan searches all of the following locations.
craigslist cities: Ann Arbor - Battle Creek - Central Michigan - Detroit Metro - Flint - Grand Rapids - Holland - Jackson - Kalamazoo - Lansing - Monroe - Muskegon - Northern Michigan - Port Huron - Saginaw Midland Baycity - Southwest Michigan - The Thumb - Upper Peninsula
---
Michigan Craigslist Search looks at the entire state of michigan and covers a total of 96,716 sq mi. Michigan has an area ranking of 11th in the country, with a population of 9,928,300 people, giving michigan a population ranking of 10th highest in the U.S. with an average population density of 174 people per square miles.
Michigan has the following nick names: The Great Lake(s) State, The Wolverine State, The Mitten State, Water (Winter) Wonderland
Michigan has the following state moto: Si quaeris peninsulam amoenam circumspice
The people who live in Michigan are known as: Michigander or Michiganian or Yooper
The capital of Michigan is Lansing
Michigan's largest metro area is Metro Detroit
Michigan was admitted into the United States on January 26, 1837, before it was admitted into the union, it was known as the Michigan Territory. Michigan was the 26th state to join the United States.
Michigan has the following state emblems:

State Bird: American robin (Turdus migratorius),

State Fish: Brook trout (Salvelinus fontinalis),
State Flower: Apple blossom (Malus domestica),


State Mammal: Unofficial: Wolverine (Gulo gulo luscus),
State Reptile: Painted turtle (Chrysemys picta),
State Tree: Eastern white pine (Pinus strobus),




State Fossil: Mastodon (Mammut americanum),
State Gemstone: Isle Royale greenstone,

State Rock: Petoskey stone,


State Soil: Kalkaska sand,
State Song: My Michigan ,